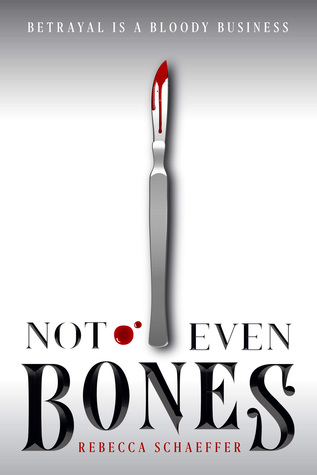 THE SOUTH AMERICAN SETTING IS JUST ONE OF THE ELEMENTS THAT MAKE THIS SO UNIQUE...


๏ ๏ ๏ Book Blurb ๏ ๏ ๏
Dexter meets This Savage Song in this dark fantasy about a girl who sells magical body parts on the black market — until she's betrayed.

Nita doesn't murder supernatural beings and sell their body parts on the internet—her mother does that. Nita just dissects the bodies after they've been "acquired." Then her mom brings home a living specimen, and Nita decides she wants out. But there's a problem: Nita herself is a supernatural being and a prime target for the black market if anyone ever found out. When Nita decides to help her mother's latest victim escape, she ends up taking his place instead. Nita did a good deed, and it cost her everything. Now she needs to escape and make sure no one can ever sell her again. And to do that, there's no line Nita won't cross.
๏ ๏ ๏ My Review ๏ ๏ ๏
Not Even Bones is unlike any other paranormal book. Nita is unlike any other heroine I've ever read, too. It's kind of in a league of its own. Some would classify this as YA, but I'm not one of them.

Sometimes paranormal or supernatural will read sort of like fantasy...but not this, it feels like a more realistic world where supernatural beings just exist, anywhere from a Unicorn to a Dolphin Girl. It's super wild and freaky strange. Then there this seedy underbelly where some will sell body parts of the supernatural beings...all I can say is this is one hell of a freaky AF ride. Oh yeah, I almost forgot...this has a cliffhanger that will have you thinking...seriously, WTF!


๏ ๏ ๏ MY RATING ๏ ๏ ๏
๏ Breakdown of Ratings ๏
Secondary Characters⇝ 4/5
Flow (Writing Style)⇝ 3.8/5
Backdrop (World Building)⇝ 4/5
Ending⇝ 4.2/5 Cliffhanger⇝ Yes!
Series⇝ Market of Monsters #1