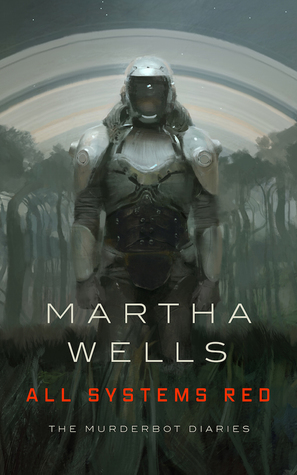 Please tell me if this gets better as the series goes on???
๏ ๏ ๏ Book Blurb ๏ ๏ ๏
In a corporate-dominated spacefaring future, planetary missions must be approved and supplied by the Company. Exploratory teams are accompanied by Company-supplied security androids, for their own safety.
But in a society where contracts are awarded to the lowest bidder, safety isn't a primary concern.
On a distant planet, a team of scientists are conducting surface tests, shadowed by their Company-supplied 'droid — a self-aware SecUnit that has hacked its own governor module, and refers to itself (though never out loud) as "Murderbot." Scornful of humans, all it really wants is to be left alone long enough to figure out who it is.
But when a neighboring mission goes dark, it's up to the scientists and their Murderbot to get to the truth.
๏ ๏ ๏ My Review ๏ ๏ ๏
I've seen this series all over my feeds and I thought, I might as well try it, people seem to like it. Well...I'm afraid that I didn't love and I'm not sure I even liked it. Maybe it was due to the overly bland voice for the narration...I just couldn't stay focused on the story for anything. It was too easy to tune it out, unfortunately. I did have some moments where I almost kind of liked Murderbot, though...he was developing a sense of humor at least. I just need to know, does it get better with the next book?


๏ ๏ ๏ MY RATING ๏ ๏ ๏
๏ Breakdown of Ratings ๏
Secondary Characters⇝ 2/5
Flow (Writing Style)⇝ 2.5/5
Backdrop (World Building)⇝ 2.5/5
Ending⇝ 2.5/5 Cliffhanger⇝
Book Cover⇝ Meh...it's fine, I guess.
Narration⇝
☆
2
☆ for
Kevin R. Free
Series⇝ The Murderbot Diaries #1