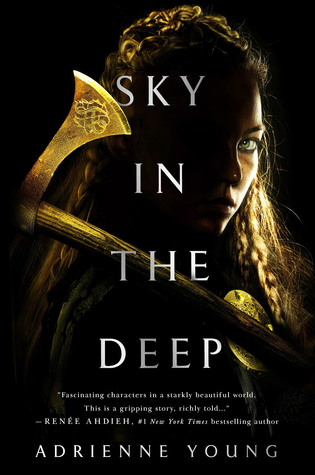 ๏ ๏ ๏ Book Blurb ๏ ๏ ๏
Part Wonder Woman, part Vikings—and all heart.
Raised to be a warrior, seventeen-year-old Eelyn fights alongside her Aska clansmen in an ancient rivalry against the Riki clan. Her life is brutal but simple: fight and survive. Until the day she sees the impossible on the battlefield—her brother, fighting with the enemy—the brother she watched die five years ago.
Faced with her brother's betrayal, she must survive the winter in the mountains with the Riki, in a village where every neighbor is an enemy, every battle scar possibly one she delivered. But when the Riki village is raided by a ruthless clan thought to be a legend, Eelyn is even more desperate to get back to her beloved family.
She is given no choice but to trust Fiske, her brother's friend, who sees her as a threat. They must do the impossible: unite the clans to fight together, or risk being slaughtered one by one. Driven by a love for her clan and her growing love for Fiske, Eelyn must confront her own definition of loyalty and family while daring to put her faith in the people she's spent her life hating.
๏ ๏ ๏ My Review ๏ ๏ ๏
Sometimes the simplest of messages can mean so much...to me this story is all about its message...
...and while this story's message is a well-known one, it's still an important one. The reviews for this are all over the place, some loved and some did not even like. I obviously really liked it, maybe possibly loved it, even. Some said it was cliché, and not true to the Viking heritage...I didn't feel that way at all (not that I'm super knowledgeable about Viking heritage). I believe if you go into this thinking that is Viking-inspired and not true Viking, you won't set yourself up for disappointment.
Maybe, it was the narration that made me so invested in this story...the narration is excellently done, after all. Maybe it's the fact that it is a stand-alone...I do love stand-alone's. I think it's both of these things actually...plus the vivid writing and I seriously loved Fiske, and truly loved Eelyn and Fiske together.
๏
๏
๏
A Bookish Obsession Favorite
๏
๏
๏
๏ ๏ ๏ MY RATING ๏ ๏ ๏
๏ Breakdown of Ratings ๏
Plot⇝ 4.7/5
Main Characters⇝ 5/5
Secondary Characters⇝ 5/5
The Feels⇝ 5/5
Pacing⇝ 4.5/5
Addictiveness⇝ 5/5
Theme or Tone⇝ 5/5
Flow (Writing Style)⇝ 4.7/5
Backdrop (World Building)⇝ 4.5/5
Originality⇝ 4.2/5
Ending⇝ 4.5/5 Cliffhanger⇝ Nope. It's a stand-alone!
๏ ๏ ๏
Book Cover⇝ Amazing
Narration⇝ ☆5☆ for Khristine Hvam...I've always liked her. She always does a powerful female character justice.
Setting⇝ Between the Aska and Riki Villages...The Mountains and the Fjord.